Maternity Ward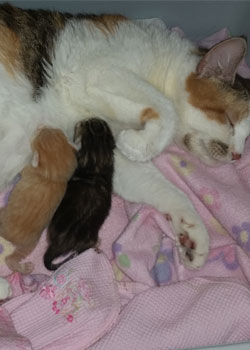 What is the Maternity Ward Program?
Both cats and dogs that are pregnant or have babies will be eligible for care in our Maternity Ward
We will also take in orphaned puppies and kittens
---
How can you help?
We are a 100% volunteer organization so all money goes straight to the animals. Even if you cannot donate or volunteer, spreading the word helps just as much!
Volunteer to Foster

All fosters MUST be approved by the rescue in advance (for… example, we will not pull a family from the kill list for someone that simply sends us an email or message)
Fosters will be provided all equipment. Dog runs, beds, food, pails, toys, etc. Soft cat kennels, litter, food, etc. YOU provide the love, socialization, transport to medical visits and adoptions
Interested? Send us an email HERE.
Please put "Interested in Fostering" in the subject line.

Donate to the program, we are in need of…

Product donations can be made through Amazon Smile or a local store (we support Petsmart because they support us!). Don't forget – ALL DONATIONS ARE TAX DEDUCTIBLE.

KMR
Esbilac
Kitten and puppy nursing bottles
2nd Step Weaning Formula
Snuggle Safe
Kitty condos
Wire easy up crates
---
Sammi's Success Story
When we got our foster Sammi, we were told that she was in labor and we should expect babies very soon. Well, 2 months later we still had no babies! So we got her checked and she got a xray to make sure all the babies were okay. That was when we got to see her 3 little skeleton babies. We were told within the next 48 hours we will have babies. A whole 48 hours went by and no babies. We were starting to think this girl is going to hold her babies in forever. So we went to bed. When we woke up I went to check on Sammi and I saw a little tail! I was so excited to finally have her babies here. She had three gorgeous little babies: a girl orange tabby we named Daisy, a white little boy we named Colt, and a little tabby/calico girl we named Lilly. They grew so fast and just love to play with each other.